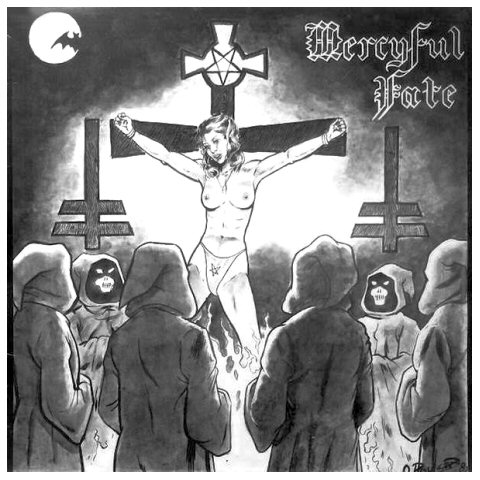 Disproving myself early in my reviewing career
Well, slap my ass and call me Barbara, I've found a perfect record.
My friend gave me this a long while ago. He, knowing I was a big Mercyful Fate fan, and also knowing that Melissa is probably one of my top 10 favorite metal albums of all time, told me to listen to the EP that came out before Melissa, it would blow me away. I told him that is like trying to out-nuke something, once you've been hit by one, nothing can ever compare. Melissa is easily one of the most important albums that helped define my taste in music, so much so that another buddy of mine's phone plays Black Funeral when I call him. Seriously, I cannot underestimate how much that album means to me.
I've been wrong before, but I've never felt more stupid than this time. This has been on my computer for a long time, just idly sitting after Melissa on my playlist. Well I was listening to Melissa a few days ago, and instead of switching to something once the title track was done, I absentmindedly let it run. That has fast become one of the most glorious little missteps of my metal listening career. A quick opening chord cut through my speakers, and then a blistering lead grabbed me by the nuts and bashed my face into the computer screen. I won't lie, I was slightly familiar with the opening track, Corpse Without a Soul, because of Metallica's medley of Mercyful Fate songs. Holy SHIT is it intense here. The leads are insane, the riffs are catchy, the bass is audible, and most of all... King fucking Diamond. This EP captures his arguably best performance ever. So raw, unadulterated, and fucking intense. That wail at the end is one of the most breathtaking screeches in the history of heavy metal. Yes, I AM comparing it to the opening of Angel of Death, it's that legendary.
Now, I feel that it deserves special mention that the King is at his absolute best here. I am a huge fan of King Diamond, and absolutely adore his performances on the first two MF records and most of his solo career, he is easily one of the greatest vocalists in heavy metal history... and I made that claim BEFORE I heard Nuns Have No Fun. This may have just put him in the top 3, I just cannot put into words how great it is. Like most youngsters whose ears are only just blossoming into the wonderful world of heavy fucking metal, I couldn't stand his voice at first. But I thought all of the riffs on Melissa were great, so I tolerated them. And again, like most metal neophytes, his voice grew on me like a fungus. But a good fungus, like a fungus that makes your dick grow to mind numbing proportions.
The other three songs on this little slice of perfection are no different. They all completely destroy from beginning to end. Nuns Have No Fun is perfect by Mercyful Fate standards, and Doomed by the Living Dead and Devil Eyes beyond perfect by ANYbody's standards.
I can't stop gushing, so I'll wrap it up here. Riffs are solid, catchy, and infectious. Leads are astounding, bass is great, vocals soar and rank as the most unadulterated and intense that King Diamond has ever recorded. If there is anything I could say could be improved, it's that the drumming is a little typical. But it matches great, so you can't really ask for much more... not everybody can be Gene Hoglan.
In the end, the very first (and probably last) perfect score you'll ever see from me. The shortage of songs may have helped in the perfect score, but that doesn't stop this from being one of the greatest slices of metal I have ever heard. Would I rank it above the much coveted Melissa? Maybe a tie, I don't know if it's above yet though. The only thing that drags Melissa down is the title track.... Oh well, this here is required listening for all metalheads. Get your hands on this NOW.
RATING - 100%